METCO LEGISLATIVE ACTION ALERT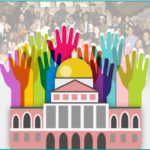 We need your support by FRIDAY, MAY 17TH to make sure METCO can receive the funding it needs next year!
Thanks to your advocacy, the House of Representatives included a $1.5M increase for the METCO program.
But it's time to make our voices heard again. This week, the Senate Ways and Means Committee proposed a budget with level funding for METCO, with no increase to account for essential late bus transportation for all 33 districts.
METCO champion Senator Sonia Chang-Diaz submitted an amendment to increase the line item by $1.5 million. But she needs a strong set of co-sponsors from all over the state, to ensure that the increase is included in the final budget.
Please reach out to your Senate members AS SOON AS POSSIBLE to request that they sign on as a co-sponsor to Senator Chang-Diaz's amendment NUMBER 205.
Only you as a METCO voter can ensure that the state continues to keep the program strong!
If you need additional help figuring out who to contact, please reach out to Charlotte Boghossian at cboghossian@charlesgroupconsulting.com or (617) 938-3526.
Find your Senator here, or visit WhereDoIVoteMA.com and enter your home address to find out who your Senator is. Boston families: look up the Senator in your METCO district too!
Contact your Senator and your METCO school districts' Senator IMMEDIATELY! Tell the Senator or aide:
"I am a parent/student/supporter/school staff/alum, and I'm calling to ask that you sign onto the METCO amendment number 205, filed by Senator Chang-Diaz, for funding of $23.6 million for the METCO program. Full funding will allow METCO to provide the buses in the afternoons that allow students to fully participate in after-school activities. METCO has made an impact on me and my family/school because [tell your own story briefly]."
Send this page to people who also support METCO:
Parents
METCO alumni
School faculty
School Committee members
Your family and friends
Other supporters of the METCO program
Tweet or post this page with the hashtag #speakupforMETCO.